Hope everyone is enjoying this beautiful summer weather.  I thought this would be a great opportunity to once again share our essential oil sun care salve recipe that we presented in our spring oil workshop. It's not only cooling and soothing to sundrenched skin, but it also has skin nourishing benefits too (without all the harmful chemicals in the commercial products).  It's important to remember we recommend only good quality therapeutic grade essential oils.
Sunburn Salve Recipe
Ingredients:
*1/4 C of coconut oil (use fractionated oil for a liquid salve) or regular for a creamier salve
*1/4C of Pure Aloe gel
* 5-6 drops of Vitamin E(optional)
*10 drops of lavender essential oil
* 5 drops of peppermint essential oil
Mix all ingredients together well and store in a glass container in a cool place or the refrigerator.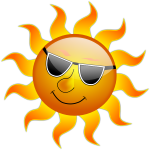 This quick working salve is super simple and easy to make. It is not only soothing but it actually assists in the healing of your skin.  Aloe gel– works by causing your blood vessels to constrict, which helps take away the redness and sting of the burn.  Coconut oil– is anti-inflammatory and anti-microbial which allows it to calm irritated skin, and ward off any potential irritants or infections, allowing quicker healing.  Vitamin E– provides moisture and antioxidants to the skin for intense healing. It also boosts collagen production which supports new skin cell growth and speeds up cell regeneration.  Lavender oil– soothing to burns because it contains anti-inflammatory and local anesthetic properties.  Peppermint oil– contains anti-inflammatory, analgesic properties that are soothing and cooling to the skin.
Stay tuned for our future announcement on the return date of our monthly essential oil workshops, where we discuss the benefits of these oils and more in greater depth!